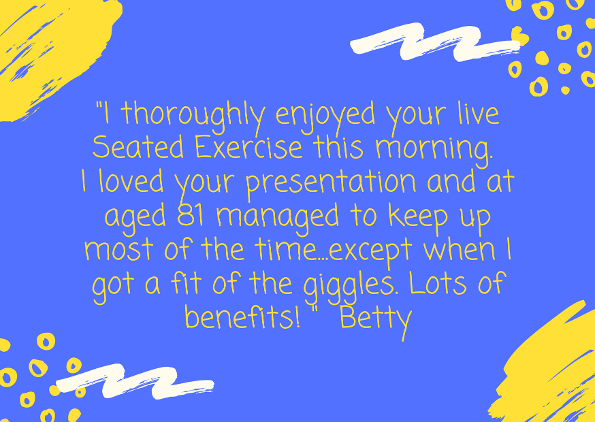 Seated Exercise Class
A class to put exercise back in to your life.
This simple fun class using seated and standing exercises will improve your strength and balance to aid everyday living.
All ages and fitness levels are welcome.
Classes run as follows:-
Mondays 2pm

Thursdays 10.30am
60 minutes long including a cuppa
£5 per person. Payable in chunks of £30 or cash each week.
To book your space please call Tessa on 07787 970810

or email getfitwithtessa@gmail.com
***************************************************************************************************
How does Seated Pilates/exercise benefit the older or less mobile population?
For the older population keeping fit is essential. But so many forms of exercise can be hard on the bodies of older adults. As we get older muscle mass begins to deteriorate as part of the natural ageing process so keeping fit and supple is essential. Many forms of exercise are high impact and can be tough on the bodies of older clients. Pilates also has the benefit of positively affecting postural positions and therefore putting less pressure on the weight-bearing joints such as knees and ankles.
Seated Pilates is perfect for older adults because it is low impact compared to many other forms of exercise, and is not nearly as severe on the joints as most workouts are. Pilates focuses on controlled breathing and quality of movement-not quantity of repetitions, it's because of this that many experts agree that it is one of the best ways for older adults to stay healthy.
Can I still do Seated Pilates/exercise with my medical condition?
Seated Pilates can help with a variety of ailments whether they are age related or not. Arthritis sufferers benefit because movements are mid-range and gentle and decrease the chance of joint compression but maintain the range of movement around the affected joints.
What is Seated Pilates/exercise & am I suitable?

Seated based Pilates is exactly that, it is a modified version of the floor based mat repertoire but done in in a chair. The class is ideal for clients who would find it difficult to spend an hour on the mat or would have difficulty moving into different positions on the floor. The class will focus on core exercises to strengthen the spine, increase strength and mobility of the joints in order to improve the function of the body in daily tasks. We will use a combination of small props; these props support chair based exercises and provide the body with feedback during the movements.

Do I need to have done Seated Pilates/exercise before?

No, the class will be a beginner's level and will build upon the principles of Pilates in each class. However if you have attended classes before and wish to try a chair Pilates you are also still welcome as movement on a chair is a different experience to mat based work.
Will we just be seated in a chair?
No! As the weeks progress I will build on the chair movements so that some can be done in standing in order to focus on balance, ankle strength and awareness of the feet. As we get older we lose some of our balance and coordination. Increased control and stability is therefore crucial as it can help improve functional movement, including balance and posture.
Do I need to get permission from my doctor before starting Pilates/seated exercise?
Currently if you are not doing any form of physical exercise it is important to inform your doctor before you begin.
Will I need to fill in a health screening form?
No. Just make sure you tell me about any conditions/ medication that could effect your workout.
If you have any further questions then please get in touch.
Downloadable exercise sheets
Seated Exercise sheets that you can download: