Using pilates inspired moves we improve our strength, flexibility and mobility. The class is one hour long and includes standing and mat work. We finish the class with relaxation and simple meditation.
Venue: Clifton Community Cre, Whiston cres, Clifton.
Day: Mondays and Thursdays 6.15-7.15pm,Tuesdays and Thursdays 9.30-10.30am and Friday 5-6pm.
These are pre-book and pre-pay courses of classes. Each course costs £40 for 8 weeks. If you would like to join please contact me.
The class is not remedial and is designed for moderately active and healthy adults.
Our Thursday evening class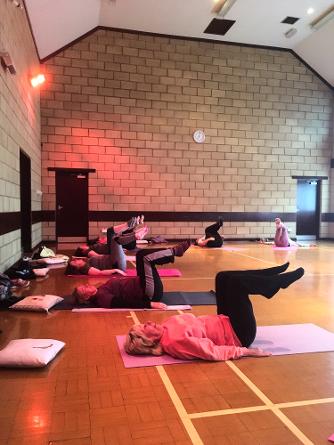 NEXT COURSE DATES
Monday and Tuesday Fitness Pilates and Circuits:
Weeks commencing 12th November 2018 – 14th January 2019
No classes on weeks commencing 24th and 31st December.
£45 for 8 wks.
Thursday and Friday Fitness Pilates:
Weeks commencing 12th November 2018 – 14th January 2019
No classes on weeks commencing 17th, 24th and 31st December.
£39 for 7 weeks.
Note: Those on current Friday course are owed one session for cancellation so you pay £34.
If you do 2 courses running at the same time you receive a £10 discount.
Please pay your fees for this course before Friday 3rd November.
Cash , cheques or bank transfer. Cheques payable to T.Chiswell. Bank transfers to 08-93-00, 17381071.
Any questions? Contact me on tessa.chiswell@ntlworld.com.
Please feel free to download the sheet below showing THE BASIC TEN Fitness Pilates exercise sequence. Beginners - Intermediate.
There are some very good examples of Pilates exercises on You Tube...have a look at the one above and then find lots more on Youtube. Once you have watched the first exercise below or above click on the top title which will be displayed. This takes you to all the related exercises on YouTube.
Please use this as a resource for practice at home BUT remember that this site is not aware of your ability/experience/fitness level so please take care.