Using pilates inspired moves we improve our strength, flexibility and mobility. The class is one hour long and includes standing and mat work. We finish the class with relaxation and simple meditation.
Venue: Clifton Community Cre, Whiston cres, Clifton.
Day: Mondays and Thursdays 6.15-7.15pm,Tuesdays and Thursdays 9.30-10.30am and Friday 5-6pm.
These are pre-book and pre-pay courses of classes. Each course costs £40 for 8 weeks. If you would like to join please contact me.
The class is not remedial and is designed for moderately active and healthy adults.
Our Thursday evening class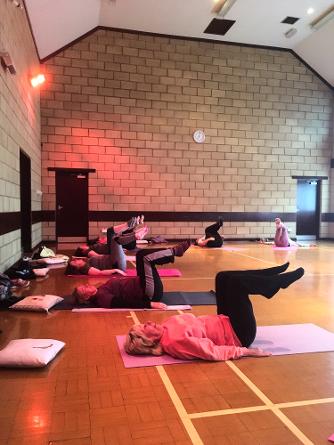 Current Course details: Fitness Pilates
Mondays
6th November - 11th December
8th January 2018 - 15th January
8 weeks
£40
Note: Due to the cancelled class on 2nd Oct this course will be £35 to those who have not taken an extra class to make up for the one missed.
Tuesdays
7th November - 12th December
9th January - 16th January
8 weeks
£40
Thursdays
9th November - 14th December
4th January - 18th January
9 weeks
£45
Fridays
10th November - 8th December
5th January - 19th January
NO CLASS on 15th December.
8 weeks
£40
Please pay me by Friday 27th October.
£10 saving to those taking two courses running at the same time.
Payment by cheque ( T.Chiswell), cash or paypal accepted.
Next course dates




Mondays:

22nd Jan - 12th March

8 weeks

£40




Tuesdays:

23rd Jan - 13th March

8 weeks

£40

Tuesday people have ONE credit for the class that was cancelled in December so you need to pay £35.




Thursdays:

25th Jan - 15th March.

8 weeks

£40




Fridays:

26th Jan - 16th March

8 weeks

£40




Those doing two courses per week are eligible for a £10 discount.




Please pay by cash or cheque. I also accept paypal payment. If it is easier for you I can also accept bank transfers - please add your name and the day you attend class so I can identify it.

Tessa Chiswell 17381071 08-93-00




Please pay by Friday 19th January.
Please feel free to download the sheet below showing THE BASIC TEN Fitness Pilates exercise sequence. Beginners - Intermediate.
There are some very good examples of Pilates exercises on You Tube...have a look at the one above and then find lots more on Youtube. Once you have watched the first exercise below or above click on the top title which will be displayed. This takes you to all the related exercises on YouTube.
Please use this as a resource for practice at home BUT remember that this site is not aware of your ability/experience/fitness level so please take care.